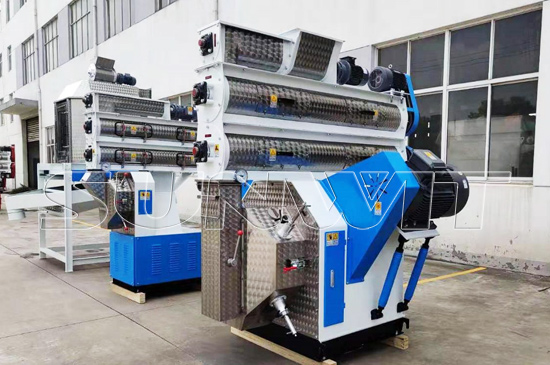 SZLH series Ring Die Feed Pellet Machine is high precision gear drive ring die feed pellet machine, this machine has stainless steel conditioner, with frequency speed control, use Switzerland "SKF" high quality bearing, ensure high-efficiency, stable and low noise drive, can work alone with its electric cabinet. It can used in all kinds of large, middle and small farms to make feed pellet to feeding animals, for raw materials, it can be grain, such as wheat, corn, maize, etc., and some grass, straw also can be applied to this machine, has a very broad application.
Advantages
SZLH250 and SZLH304 adopt V-type belt drive, and others use gear drive;
Feeder uses frequency conversion motor, it can be adjusted within a certain scope according to the need of production;
The safe protection device is consisted of interlock device, outer machine discharging device and over-load protection device, to ensure the safe and reliable;
Install magnetic separation and removal iron equipment, to prevent the iron impurities that mixed in fodder from entering into the suppression of granulation chamber;
Extended stainless steel conditioner, with long conditioning and cooking time;
The special designed lubrication oil return system, to ensure the bearing lubrication;
The ordinary conditioner, thermal insulation conditioner or double-shaft differential conditioner can be chose according to user's requirement;
Product features
Single motor V type belt drive system, low maintenance cost, safety and stability of transmission, flexible transmission, little vibration, smooth granular, suitable for ordinary livestock and poultry feed production; Granulating machine base by the national standard steel plate welding, surface sandblasting anti-corrosion treatment, long life; The spindle is equipped with overload protection device, feeding the safe and stable; Equipped with two sets of knife components ; equipped with safety interlock device of the machine back for protect the pellet mill; With the standard Siemens (BEI ) motor and selectable force feeding equipment.
Technical Parameter
| | | | | | |
| --- | --- | --- | --- | --- | --- |
| Model | SZLH250 | SZLH320 | SZLH350 | SZLH420 | SZLH508 |
| Main power | 15/22kw | 37kw | 55kw | 110kw | 132kw |
| Conditioner power | 2.2kw | 2.2kw | 2.2kw | 5.5kw | 5.5kw |
| Feeding power | 1.5kw | 1.5kw | 1.5kw | 1.5kw | 1.5kw |
| Output capacity | 1-2T/H | 2-4T/H | 2-6T/H | 4-12T/H | 4-18T/H |